Will these Bass Pickups work with your Bass?
Ask Frankie, our Bass Tech.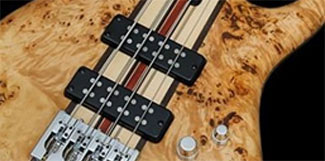 Best Bass Gear is proud to carry a wide array of bass guitar pickups from manufacturers including Aero, Aguilar, Bartolini, Delano, Dimarzio, EMG, Fender, Lakland, Nordstrand, and Seymour Duncan. We are dedicated to assisting you in getting the perfect pickup(s) that will provide you with the best possible tone of your desire and fit your current bass or custom build.
4 String Split Coil Humcancelling Precision Bass Pickup
Labella Olinto Precision Bass Pickup Well respected for their world renowned handwound strings, Labella has taken to building high end vintage Precision basses and this particular pickup you see here which is the electronic heart of their Olinto...