Will these Bass Pickups work with your Bass?
Ask Frankie, our Bass Tech.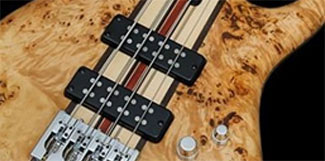 Best Bass Gear is proud to carry a wide array of bass guitar pickups from manufacturers including Aero, Aguilar, Bartolini, Delano, Dimarzio, EMG, Fender, Lakland, Nordstrand, and Seymour Duncan. We are dedicated to assisting you in getting the perfect pickup(s) that will provide you with the best possible tone of your desire and fit your current bass or custom build.
*For your 4, 5 and 6 String MusicMan Basses*
The DELANO MC HE/S is our highend MM style™ dual coil humbucking pickup. Its custom coils are precision hand wound around two sturdy silicon steel blades on top of our specially engineered double magnet array, all hidden by a closed structured...

*For your 5 and 6 String MusicMan Basses*
The closed cover MC HE can offer a rainbow of tonal colours, especially if used with the DELANO active 2 or 3-band circuit. Very articulated extended range fivestring bass sound with great detail and definition throughout the entire spectrum...