Will these Bass Pickups work with your Bass?
Ask Frankie, our Bass Tech.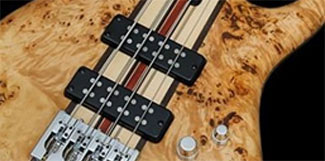 Best Bass Gear is proud to carry a wide array of bass guitar pickups from manufacturers including Aero, Aguilar, Bartolini, Delano, Dimarzio, EMG, Fender, Lakland, Nordstrand, and Seymour Duncan. We are dedicated to assisting you in getting the perfect pickup(s) that will provide you with the best possible tone of your desire and fit your current bass or custom build.
*For 4, 5, and 6 String Basses*
One of EMG's original designs and our most popular bass pickup since its introduction in 1979; the EMG P covers a wide sonic palette of classic and modern bass sounds. Because the P utilizes ceramic magnets coupled with short, squat coils, the tone...

Aguilar Split Coil Humcancelling Precision Bass Pickups
We are not authorized to ship Aguilar products outside of the United States and Canada. The Fender Precision® bass provided the big, round tone found in almost every hit song...