Will these Bass Pickups work with your Bass?
Ask Frankie, our Bass Tech.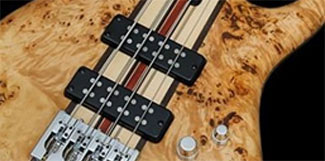 Best Bass Gear is proud to carry a wide array of bass guitar pickups from manufacturers including Aero, Aguilar, Bartolini, Delano, Dimarzio, EMG, Fender, Lakland, Nordstrand, and Seymour Duncan. We are dedicated to assisting you in getting the perfect pickup(s) that will provide you with the best possible tone of your desire and fit your current bass or custom build.
*For your 4, 5, and 6 String Basses*
DELANO SBC series bass pickups are dual-coil highend electric bass humbuckers in the classic bass soapbar shapes. They represent the leading edge in dedicated bass transducer technology. Finally your bass CAN sound like it'should. The custom...