Will these Bass Pickups work with your Bass?
Ask Frankie, our Bass Tech.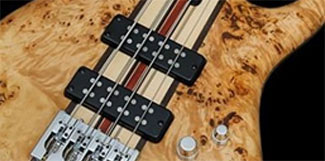 Best Bass Gear is proud to carry a wide array of bass guitar pickups from manufacturers including Aero, Aguilar, Bartolini, Delano, Dimarzio, EMG, Fender, Lakland, Nordstrand, and Seymour Duncan. We are dedicated to assisting you in getting the perfect pickup(s) that will provide you with the best possible tone of your desire and fit your current bass or custom build.
4-String Split Coil Humcancelling P/J Bass Pickup Set
Aero Type 1 PE and Type 1 PJ4-B P/J Pickup Set The Type 1 PE Bass is a replacement pickup for 4-String Fender Precision Basses, and other P-basses. These utilize Alnico V magnet's and are built by hand to provide the highest quality available...

4-String Split Coil Humcancelling Jazz Bass Pickup Set
The Type 1 PJ4 is a 4-String pickup set for Jazz Basses with a 'long' sized pickup in the bridge position and a 'short' in the neck position. . These are a P-bass pickup in a J-bass shell with a split coil humcancelling coil structure that utilizes...