Will these Bass Pickups work with your Bass?
Ask Frankie, our Bass Tech.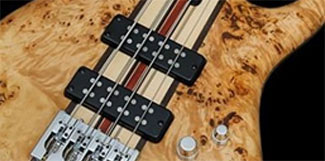 Best Bass Gear is proud to carry a wide array of bass guitar pickups from manufacturers including Aero, Aguilar, Bartolini, Delano, Dimarzio, EMG, Fender, Lakland, Nordstrand, and Seymour Duncan. We are dedicated to assisting you in getting the perfect pickup(s) that will provide you with the best possible tone of your desire and fit your current bass or custom build.
Active Soapbar EMG 40 Size Pickup Set
Active "soapbar" pickups for 5-string and 6-string basses. Similar to Phase I, but with slightly harder attack and a modern, hi-fi tone with a smooth and broad response. Unique split-blade design delivers the punch of a single coil, without hum....

Split Coil Humcancelling P2 Sized Pickup Set
Moderate output, active "soapbar" pickups Unique split-blade design eliminates string-spacing issues. The tone is traditionally voiced and warm with a detailed and natural high end. Includes logo covers. Neck and bridge models available...