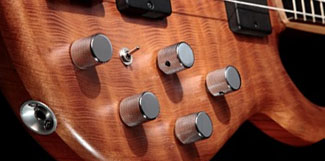 Best Bass Gear is proud to be able to offer you a wide array of onboard preamps for your EQ and tone shaping needs. We offer systems custom prewired in house and also wired by the manufacturer with a large selection of control configurations for almost any bass.We stock only the highest quality manufacturers including ACG, Aguilar, Bartolini, Glockenklang, John East, Mike Pope, Nordstrand, and Seymour Duncan.
Custom pre-wired preamp
The Aguilar OBP-1 is a boost only preamp able to be used in conjunction with active or passive pickups. No modification is required for use with Active pickups such as EMG®, Warwick® MEC and other active pickups as we build the pre-wires in...

2-Band preamp with unique Dual Presence Filter, custom wired to your specifications
Developed by Best Bass Gear's own Rob Giovannetti, the Vannetti V2B 2-Band is a unique offering in the world of onboard preamps. Inspired by the classic active electronics of the late 1970s, the V2B has been designed not to be "transparent," but to...

Custom pre-wired preamp
The OBP-2 was designed to give bassists fat tone while being small enought fit into tight control cavities. Wire this preamp with one 9 volt battery and it will fit into just about any instrument. With +/-18dB of bass boost and cut at 40Hz and +/-...