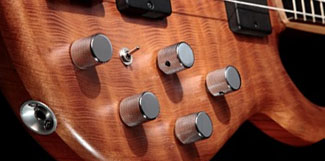 Best Bass Gear is proud to be able to offer you a wide array of onboard preamps for your EQ and tone shaping needs. We offer systems custom prewired in house and also wired by the manufacturer with a large selection of control configurations for almost any bass.We stock only the highest quality manufacturers including ACG, Aguilar, Bartolini, Glockenklang, John East, Mike Pope, Nordstrand, and Seymour Duncan.
2-Band preamp with unique Dual Presence Filter, custom wired to your specifications
Developed by Best Bass Gear's own Rob Giovannetti, the Vannetti V2B 2-Band is a unique offering in the world of onboard preamps. Inspired by the classic active electronics of the late 1970s, the V2B has been designed not to be "transparent," but to...