Will these Preamps work with your Bass?
Ask Frankie, our Bass Tech.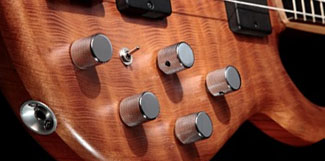 Best Bass Gear is proud to be able to offer you a wide array of onboard preamps for your EQ and tone shaping needs. We offer systems custom prewired in house and also wired by the manufacturer with a large selection of control configurations for almost any bass.We stock only the highest quality manufacturers including ACG, Aguilar, Bartolini, Glockenklang, John East, Mike Pope, Nordstrand, and Seymour Duncan.
Aguilar OBP-1 Module Only
The Aguilar OBP-1 is a boost only preamp able to be used in conjunction with active or passive pickups. No modification is required for use with Active pickups such as EMG®, Warwick® MEC and other active pickups as we build the pre-wires in...

Aguilar OBP-2 Module Only
The OBP-2 was designed to give bassists fat tone while being small enought fit into tight control cavities. Wire this preamp with one 9 volt battery and it will fit into just about any instrument. With +/-18dB of bass boost and cut at 40Hz and +/-...

2B Module
Nordstrand 2B Module (Module and EQ Pots) Includes 2 EQ pots. Does not include output jack or battery clip. Technical Specifications Overall Gain: +/- 10db by a trim pot on the module Treble: ...