Will these Preamps work with your Bass?
Ask Frankie, our Bass Tech.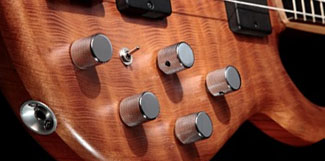 Best Bass Gear is proud to be able to offer you a wide array of onboard preamps for your EQ and tone shaping needs. We offer systems custom prewired in house and also wired by the manufacturer with a large selection of control configurations for almost any bass.We stock only the highest quality manufacturers including ACG, Aguilar, Bartolini, Glockenklang, John East, Mike Pope, Nordstrand, and Seymour Duncan.
3-Band: 2- Knob Treb/Bass - Mid/Mid
Control Configuration Treble/Bass Stack Mid/Mid Stack The BQC Control features a bass and treble equalizer on a concentric (stacked) pot along with the concentric (stacked) mid-control. It takes up very little space...