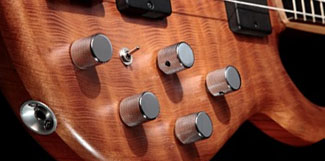 Best Bass Gear is proud to be able to offer you a wide array of onboard preamps for your EQ and tone shaping needs. We offer systems custom prewired in house and also wired by the manufacturer with a large selection of control configurations for almost any bass.We stock only the highest quality manufacturers including ACG, Aguilar, Bartolini, Glockenklang, John East, Mike Pope, Nordstrand, and Seymour Duncan.
Nordstrand 3 Band Module
Description Nordstrand preamps are a clear, transparent, and sonically aggressive preamp capable of allowing you to dial your ideal tone in from the onboard active EQ. The Nordstrand preamp has gain control onboard to allow precise control...

2B Module
Nordstrand 2B Module (Module and EQ Pots) Includes 2 EQ pots. Does not include output jack or battery clip. Technical Specifications Overall Gain: +/- 10db by a trim pot on the module Treble: ...