Will these Bass Pickups work with your Bass?
Ask Frankie, our Bass Tech.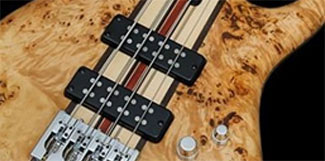 Best Bass Gear is proud to carry a wide array of bass guitar pickups from manufacturers including Aero, Aguilar, Bartolini, Delano, Dimarzio, EMG, Fender, Lakland, Nordstrand, and Seymour Duncan. We are dedicated to assisting you in getting the perfect pickup(s) that will provide you with the best possible tone of your desire and fit your current bass or custom build.
*For your 7 and 8 String Basses*
If you demand serious seven and eight string bass tone that perfectly reflects the entire spectrum of your playing, no matter if you dig in lower than subzero, or almost higher than your neck can reach out, with our SBC HE/S-4, you will be safe on...