Will these Bridges work with your Bass?
Ask Frankie, our Bass Tech.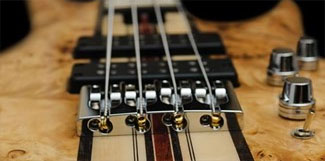 Improve the quality of the hardware on your existing bass or fresh build. Bridge replacements offer better aesthetics over stock hardware along with the added benefit of further control of variables like intonation, string action height, and string spacing. Best Bass Gear stocks a wide selection of bridges in a variety of different string spacings, finishes, string configurations and manufacturers.
Hipshot 8 String Headless bass bridge system
Lose your head with Hipshot's NEW Headless System for bass guitar! Features fully adjustable saddles, lightweight aluminum bridge, dual string option(you may choose to use standard or double ball bass strings) and all the quality that you have come...